Jacklyn Zeman does it all! Mother-Actress-Author-TV/Radio Host-Jewelry Designer.

Now after more than 5,000 episodes as nurse 'Bobbie Spencer' Chief Surgical RN on ABC's "General Hospital," she has become one of the most visible and likeable actresses on network television. She is a true contemporary and role model to millions of daytime viewers.
Born in Englewood, New Jersey, Jacklyn completed her high school studies at age 15 and studied dance at New York University on a scholarship. Within months she was dancing and modeling professionally while continuing her studies. A desire to act on daytime television led Jacklyn to her debut on ABC-TV's "One Life to Live." After her character's untimely demise, she was asked to go to Los Angeles to create the role of 'Bobbie Spencer' on "General Hospital."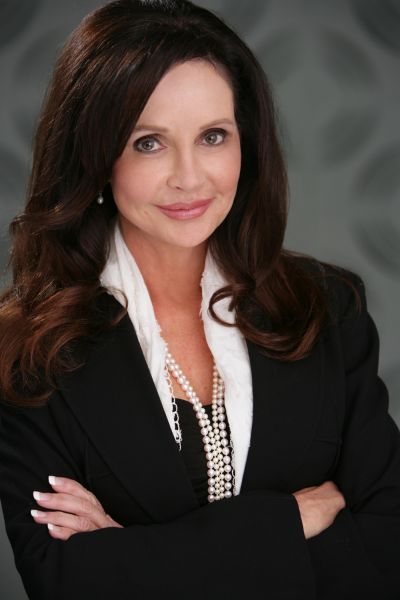 In addition to television work, she has performed in off-Broadway and community productions. She guest starred, portraying herself, in the hit stage production of "Menopause the Musical" at the Coronet Theatre in West Hollywood, CA. The sold-out audiences had a chance to see her wearing her song and dance hat. She starred in, "Come Blow Your Horn," "Barefoot in the Park" and "The Boyfriend." Under her own production banner she co-produced and co-starred in an original play "Seacliff California."

Feature film credits include, Gary Marshall's "Young Doctors in Love," John Hughes' "National Lampoon's Class Reunion," "The Day the Music Died," and "Deep in the Valley."

Jacklyn received critical acclaim for her starring role in "Montana Crossroads," an ABC After School Special, and took a break from her busy "General Hospital" schedule to co-star as a lawyer in ABC's Comedy Movie for Television, "Jury Duty." She has guested on "Chicago Hope," "Mike Hammer," "Love, American Style," "Fantasy," "Sledgehammer" and "Madd TV."

Travel, a favorite pastime, has been incorporated into appearances on "Runaway" and "Lifestyles of the Rich and Famous." Jacklyn is a frequent guest on some of television's top talk and game shows. Her appearances include: "Good Morning America," "Oprah," "The View," "Live with Regis…," "The Merv Griffin Show," "Donahue," "Rosie O'Donnell," "Master Chef," "The Florence Henderson Show," The Suzanne Sommers Show," "Braveheart Women," "The Dog Whisperer," "I've got a Secret," "Hollywood Squares," "Family Feud" "Wheel of Fortune," "Catch 21," and many more.

Jacklyn hosted a popular E! Entertainment special, profiling the "Men of Daytime" and co-hosted a series of specials for "Epcot Magazine," at Disney World for The Disney Channel. She was chosen by ABC Television to co-host ABC Daytime's Greatest Weddings" video and was the sole representative of the network for its advertising campaign.

Her interest and flare for interior design lead to appearances on "At Home With," on the E! Entertainment Network, "Home and Garden," with Rob Weller, "Treasures in Your Home," "Great Day America" on the PAX television channel and "Soap Pads" with Kim Zimmer.

Jacklyn co-hosts ABC-TV affiliate morning shows throughout the country, and was recurring co-host for ABC's "Home Show." She contributed special segments on beauty, health, fitness and fashion. Her philosophy is simple. "I try to take good care of my family and myself without spending a lot of time on a beauty routine. We lead a very healthy lifestyle," Jacklyn adds, "Beauty really does come from within."

She was featured on Jamie Jamison's "Home Tips," a syndicated radio show airing in over 300 markets nationally, hosted "Soap Talk" for The ABC Radio Network and co-hosted "Sex Drive" on the internet with Dr. Ava Cadell. Jackie continues to host and co-host various talk radio shows throughout the country. "I enjoy the personal connection and the challenge of exchanging thoughts and ideas live, on the air. There is always something interesting to explore and discover."

Jackie began designing jewelry for friends and family as a teenager. Her jewelry collections have appeared on QVC, Home Shopping Network, and Shop at Home TV. This provides an outlet for her creativity and sense of fashion. "Jewelry is a valuable gift because it has longevity and it makes a persons heart feel happy."

Add 'Author' to Jackie's list of achievements. Her first book, Beauty on the Go, was published by Simon and Schuster in 1986. She has written beauty and fitness feature articles for major consumer and Daytime magazines. She has also contributed recipes to more cookbooks than she can count, to help raise money for various charitable organizations. Her most recent book, Turn Your Acting Talent Into a Successful Career is available on her website, JacklynZeman.com.

As a spokesperson, in national campaigns for major corporations in all forms of media, public relations and marketing staffs value her on camera presence and credibility. Categories include beauty and fitness, diet and nutrition, pharmaceutical and educational campaigns. She was chosen to launch the new Excedrin Migraine campaign by Bristol-Meyers Squibb. She appeared in their television, radio, and national print campaign. Jackie was the national spokesperson for the International Correspondence Schools. She has always valued education and strongly believes education is the key to one's goals.

Jackie hosted the very successful and long time running infomercials for Leslie Sansone's fitness videos "Walk Away the Pounds." The CD's are one of the nation's top selling exercise programs.
She spearheaded the Beauty Logics Skincare run on Home Shopping Network and was the spokeswoman for the Metabolic Trim Plan, a healthy way to stay trim and fit. She guested with Jerry Lewis in a cooking video and has starred in the "Beauty on the Go" and "Soap Star Workout" videos.
Jacklyn is currently shooting in Los Angeles for her debut as southern belle 'Sophia Madison' on the internet soap thebaytheseries.com. In August 2011 Jackie joined the team at Semprae Laboratories as the National Spokeswoman for Zestra Essential Arousal Oils for their TV, radio, and print ads campaign. "This is a valuable opportunity for me to connect and interact with women on the important issues of love, romance, intimacy, and sex. There is always something new and exciting to share and to learn."
Jackie has also given her time and energy to help support public awareness programs for organ donors and filmed a video used in hospitals nationally to promote Hepatitis B vaccines to medical workers. As an advocate of health and well being, she has appeared numerous times at Rite Aide's health and Beauty Expos in major cities.
In June, 2000 Jackie received the Gabriel Project's Distinguished Achievement Award for her continued support for African children in critical need of life-saving heart surgery. She has personally traveled to Africa to accompany children back to the United States. She has been a board member and the Leukemia Society's Honorary Chair for various events held in New York City. In 1998, she received the Leukemia Society's Charlotte M. Meyers Volunteer Recognition Award. She is a spokesperson for the American Heart Association, helping to raise awareness of the women's risk of heart disease and received their Les Etoiles de Coeur Award. Since October 1998, Jackie and former "General Hospital" co-star Rick Springfield have co-hosted the annual Dolphin Ball which raised money for Cystic Fibrosis.
Industry honors and awards over the years include four Daytime Emmy nominations, including one for Outstanding Lead Actress in 1998, a Soap Opera Digest Award and the Hollywood International Favorite Actress Award.
Jacklyn lives in Malibu, and is the proud Mom of her two daughters-Cassidy Zee, born on September 16, 1990, and Lacey Rose, July 15, 1992. Rufus and Lily, their cats, round out the family. Jacklyn dedicates herself to maintaining a balance between family, friends, and work.

Contact Information
Website: JacklynZeman.com
E-mail: [email protected]
Michael Bruno, The Michael Bruno Group, 818-905-6168 or 818-517-8444
Rick Hersh, Celebrity Consulatants, tel. 310 581 6374
January 2013